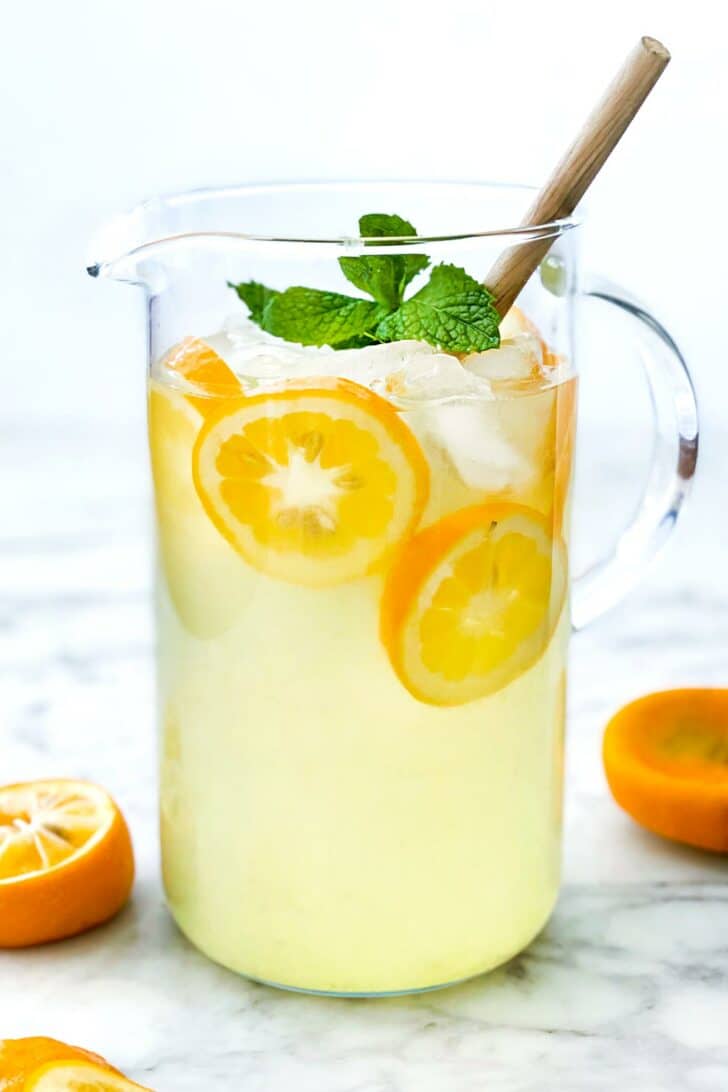 How to Make the BEST Lemonade
Bursting with bright lemon flavor, this easy homemade lemonade recipe is simple and refreshing, with the perfect balance of sweet and tart.
When it's blazing hot outside, the only logical thing to do is eat cold things like my favorite Japanese sesame soba noodles or cantaloupe and mozzarella caprese salad, then hydrate with an ice-cold, refreshing glass of homemade lemonade—the ultimate thirst quencher. This homemade lemonade combines tart lemons with a quick-to-make simple syrup and water to make an easy recipe that tastes so much better than store-bought because you control the sweetness.
Because it's scalable, this homemade lemonade recipe is perfect when in need of a big batch for entertaining. Add some flair with one of the mix-in ideas from below, or add your favorite spirit to make it a cocktail—you won't regret it.
What's in the BEST Lemonade
The best thing about making homemade lemonade is you only need two ingredients (not counting water):
Granulated sugar (use demerara sugar or honey if you prefer)
Water
Lemons
The Best Lemons for Lemonade
Regular lemons: Most lemonade recipes use the Eureka variety of lemon, which is most commonly found in grocery stores. These lemons tend to be larger in size and more yellow in color, as well as less sweet and more tart.
Meyer lemons: This yellowy-orange variety of lemon is sweeter than Eurekas, and a bit tamer in tartness, with a distinct floral flavor a bit like a cross between a lemon and an orange. They're smaller in size but also tend to be juicier, so I prefer this variety when making lemonade.
Note: If using Meyer lemons, start with less simple syrup and add it gradually, to taste. Since Meyer lemons are sweeter, you'll likely need less syrup.
How to Make Lemonade
Lemonade is a breeze to make. Here's how:
Make the simple syrup. The rule of thumb when making simple syrup is to use equal parts sugar and water. Combine in a medium pot and bring to a boil over medium-high heat, stirring until the sugar has completely dissolved. Transfer to a measuring cup to cool while you juice your lemons.
Juice your lemons. I try to buy big, juicy lemons (that way I can use fewer and get more juice that's worth the squeeze). See what I did there? Use a juicer, or, if your lemons are on the larger side, a reamer or a hand-held squeezer works fine. Just be sure to strain the pulp and seeds.
Stir it up. Add the fresh lemon juice and simple syrup (you only need a cup) to a large pitcher, along with 3-5 cups of cold water. I suggest starting with 3 cups water then tasting for sweetness, adding more as desired. 5 cups is my preferred amount, but everyone's palate is different, so let yours be your guide!
Quench that thirst. To serve, thinly slice a lemon and add to your pitcher. Chill the lemonade in the refrigerator until you're ready to serve, or you can serve it immediately.
Note: I don't like to add ice cubes to the pitcher before serving, because they'll melt and throw off the juice/syrup/water ratio. Fill a glass with ice, add one or two lemon slices, then fill with lemonade.
Is Lemonade a Healthy Drink
Let's not beat around the bush. Even though this lemonade is not as sweet as others, it's still got a generous dose of sugar, calling it a healthy drink is a stretch. However, this is still a hydrating drink, and lemons pack a hearty punch of fiber and vitamin C, as well as other nutritional benefits. Just one lemon contains about 31 mg of vitamin C, (51% of the suggested daily intake). So while lemonade is not a health drink, it's not bad for you either. Everything in moderation, right?
Lemonade Mix-In Ideas
Lemonade is pretty awesome on its own, but there are also so many fun ways to jazz it up. Here are some variations you could try:
Muddle some berries in the bottom of your pitcher
Make it a cocktail and add vodka, gin, bourbon, or whiskey
If you love even more lemon flavor, feel free to add lemon zest to your simple syrup.
Make an Arnold Palmer, by filling a glass with ice, then filling half of it with lemonade and half with iced tea
Make a cucumber mint version. Add fresh mint leaves to simple syrup once it's hot, cool, then strain. Add cucumber slices, and for more cucumber flavor, puree some cucumber in a blender or food processor, then strain and add the cucumber juice to your lemonade.
Add freshly grated ginger
Make a lavender lemonade by adding 1/2 Tablespoon of culinary-grade dried lavender buds to your hot simple syrup, steep, then strain.
Use a mix of citrus juice (lemons, blood oranges, limes, or even grapefruit)
Top with sparkling water
Use honey or agave instead of sugar
Tips for Making the BEST Lemonade
Try to buy big, soft lemons if you can (these will be juicier than smaller, firmer lemons and you won't need as many).
To get the most juice out of your lemons, roll them on the counter before you squeeze them (this softens them and get their juices flowing). If your lemons are on the firmer side, you can microwave them for 15 seconds or so.
If you don't have a citrus juicer that separates the seeds and pulp, strain your lemon juice over a fine mesh sieve.
Start with less water, and gradually add more to taste, that way you can ensure you have lemonade that's perfectly balanced with your preferred ratio of sweet and tart.
If you make this recipe, please let me know! Leave a ⭐️⭐️⭐️⭐️⭐️ rating on this recipe below and leave a comment, take a photo and tag me on Instagram with #foodiecrusheats.
Print
How to Make THE BEST Lemonade
This easy homemade lemonade recipe is so refreshing and bursting with bright lemon flavor. Adjust the amount of water until you've reached your desired balance of sweet and tart.
Servings 6
Calories 110kcal
Ingredients
¾ cup sugar
¾ cup water
1 cup freshly squeezed lemon juice , (from about 2 pounds of regular lemons or 1 1/2 pounds of Meyer lemons)
3-5 cups cold water
2 lemons , ends cut off, thinly sliced (seeds discarded)
Instructions
Add the sugar and ¾ cup water to a medium-sized pot and bring to a boil over medium-high heat. Reduce to a simmer and stir occasionally, cooking until the sugar has completely dissolved (this should only take about 5 minutes). Remove from heat and let simple syrup cool.

To a large pitcher, add 1 cup lemon juice, 1 cup of the simple syrup, and 3 cups of cold water. Stir well, then taste. If this is the level of sweetness you'd prefer, stop here. If it's a little too sweet for your tastes, add 1 ½ – 2 cups more of water. I find for me, 5 cups of water is the perfect balance of sweet and tart. You may have a little bit of simple syrup leftover (save and refrigerate for a cocktail if you like). Add some of the the lemon slices and stir. Serve over ice, adding a lemon slice or two to each glass. Store lemonade in the refrigerator (it should keep for several days).
Notes
*If using Meyer lemons, gradually add the simple syrup to taste (starting with the full amount will likely make the lemonade too sweet, as Meyer lemons are sweeter than regular lemons).
Nutrition
Calories: 110kcal | Carbohydrates: 29g | Protein: 0.3g | Fat: 0.2g | Saturated Fat: 0.02g | Polyunsaturated Fat: 0.03g | Monounsaturated Fat: 0.003g | Sodium: 8mg | Potassium: 67mg | Fiber: 1g | Sugar: 26g | Vitamin A: 6IU | Vitamin C: 25mg | Calcium: 12mg | Iron: 0.2mg
More Refreshing Drinks to Cool Down With
We send good emails. Subscribe to FoodieCrush and have each post plus exclusive content only for our subscribers delivered straight to your e-mail box.
Follow me on Instagram, Facebook, Pinterest, and Twitter for more FoodieCrush inspiration.
As always, thank you for reading and supporting companies I partner with, which allows me to create more unique content and recipes for you. There may be affiliate links in this post of which I receive a small commission. All opinions are always my own.